Hybrid cloud storage is an approach to managing cloud storage that uses both local and off-site resources. The hybrid cloud storage infrastructure is often used to supplement internal data storage with public cloud storage. Policy engines keep frequently used data on-site while simultaneously moving inactive data to the cloud in a transparent manner.
Ideally, a hybrid cloud implementation behaves as if it is homogeneous storage. Hybrid cloud storage is most often implemented by using proprietary commercial storage software, by using a cloud storage appliance that serves as a gateway between on-premises and public cloud storage or by using an application program interface (API) to access the cloud storage.
Hybrid cloud storage is a common way that organizations facilitate data backup processes and disaster recovery (DR) planning. Since replicating data stored in conventional on-premises data centers to a secondary data center can be tedious and expensive, adding backup data to the cloud can be a more logical solution. Additionally, cloud backup services can provide organizations with higher levels of reliability, quicker recovery times and lower costs.
Another popular use of hybrid cloud storage is to separate archives or infrequently accessed data with regularly accessed data. Keeping dormant data in primary data storage can slow down data retrieval processes, complicate data backup practices and minimize storage capacities. Therefore, a hybrid cloud storage approach can utilize multiple storage components with varying needs or requirements to best disperse data.
5 advantages of hybrid cloud storage
1. Cost benefits: Reducing capital expenditure is a primary incentive for organizations to consider moving to a hybrid cloud infrastructure that includes storage. The incremental costs of adding and maintaining local storage—such as servers and new on-premises data centers—can be expensive. Hybrid cloud storage enables companies to reduce such expenses by tapping the expansive power of the hybrid cloud model and allowing companies to pay for public cloud service only when they need it.
2. Scalability: Hybrid cloud deployment models offer the best of both private and public worlds. Business-critical data and operations can remain in the private cloud, and companies can tap into the flexibility and power of public cloud storage to seamlessly increase their operational capacity when their computing demands spike.
3. Innovation: Hybrid cloud storage enables enterprises to accelerate innovation by allowing companies to more easily develop new applications and run powerful analytics programs that would otherwise be cost-prohibitive for smaller companies using on-site servers.
4. Security: Hybrid cloud computing gives businesses control over their data and improves security by reducing the potential exposure of critical data. Organizations decide where to house their data and workloads based on policy, compliance and security requirements.
5. Business continuity: Hybrid cloud storage is a critical part of a company's business continuity strategy, allowing them to back up data by duplicating critical data to the cloud and ensuring that, in the event of a disaster or other computing failure, business operations will continue uninterrupted. Hybrid environments also allow the cloud to absorb workload surges, so as computing demands increase or suddenly spike, the business isn't at risk of overburdening its private servers.
EaseFilter Storage File System provides you a simple solution to integrate your existing on-premises applications with the remote cloud storage infrastructure in a seamless, secure, and transparent fashion. The cloud tiering is a data storage technique which automatically moves data between high-cost on-premises storage and low-cost remote cloud storage, it provides a native cloud storage tier, it allows you to free up on-premises storage capacity, by moving out cooler data to the cloud storage, thereby reducing capital and operational expenditures.
EaseFilter hybrid cloud storage architectures connect your on-premises applications and systems to cloud storage to help you reduce costs, minimize management burden, and innovate with your data. EaseFilter hybrid cloud storage, transfer, and migration services integrate seamlessly with applications using standard protocols, mitigate WAN latencies, and provide a consistent cloud management experience.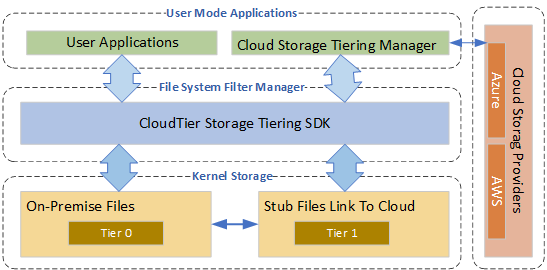 Download CloudTier Storage Tiering SDK Setup File
Download CloudTier Storage Tiering SDK Zip File